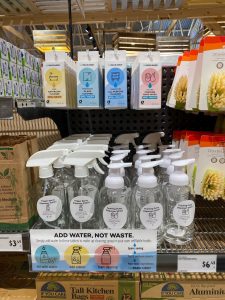 Harris Farm Markets has launched its "flagship" store in Albury, NSW.
According to the retailer, the 4,450sqm store will be the largest of its kind, employing 150 staff from the local community.
The Albury store will also be the first within the Harris Farm chain to feature a cleaning refill station, which is stocked with eco-friendly, non-toxic, Australian made cleaning products from local zero-waste start-up Unpackaged Eco. Customers can purchase their first bottle of product in a reusable glass bottle, and subsequently refill it in store for what is claimed to be a "fraction of the price".
Unpackaged Eco founder Irene Chen says this is the first time the company has launched its refill concept in NSW. She hopes this will be the first of many.
"We founded Unpackaged Eco because there is an urgent need to address our single use plastic problem in Australia," says Ms Chen.
"We love the refill in-store model because it is a great way to eliminate plastic altogether, whilst creating an engaging shopping experience.
"After successfully launching 25 refill stations in Victoria, we are incredibly excited to partner with Harris Farm Markets to introduce this concept to NSW at the Albury store."
You can find out more about Unpackaged Eco here.
Nicholas Rider, January 29th 2021